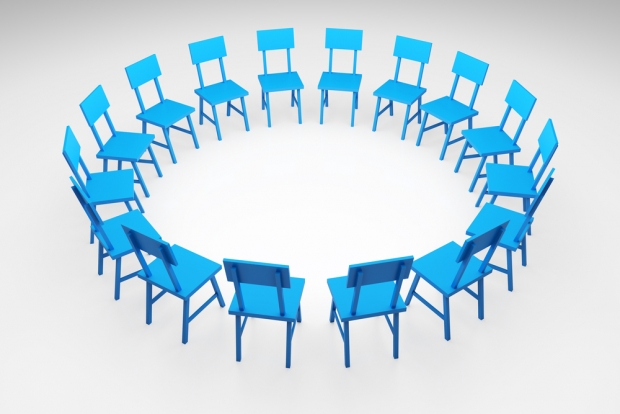 Our Different Voices series will start up again this summer.
Update on Events
Different Voices
The group who attended on April 30 worked through, answered, and discussed all questions on the U.S. Citizenship and Naturalization Test. They found that many of the questions were not as hard expected and had an enormous amount of fun doing it. Nick Muller filled in various historical details and provided answers to more detailed questions from a copy of the Constitution that he had in hand. All attendees admitted to learning a lot in the process. You can try it yourself by clicking here.
Different Voices will not be held for the next few weeks, but Katharine Preston and Nick Muller plan to host one or two summer gatherings, when snow birds and summer folk have returned. Watch this space for the dates and discussion topics.
Summer Programs
Watch this space for upcoming summer programs.
Renovations Update

Furniture and carpeting set up in the reading room.
The children's room is coming along too.
New Books
| | | | |
| --- | --- | --- | --- |
| | | | |
| The Devil's Triangle by Catherine Coulter | All By Myself, Alone by Mary Higgins Clark | No Man's Land by David Baldacci | The Whistler by John Grisham |
| | | | |
| --- | --- | --- | --- |
| | | | |
| Hillbilly Elegy; a memoir of a family and culture in crisis by J.D. Vance | Hidden Figures by Magot Lee Shatterly | The Stranger in the Woods by Michael Finkel | The Hidden Life of Trees by Peter Wohlleben |
Renovations Update
While we are not yet ready to open the upstairs space to patrons, it is coming along! The east side reading room is now set up with carpeting, a comfortable couch and chairs, a large work table and a nice view of Lake Champlain and the Vermont mountains. The west room will be dedicated to our youngest residents. It is now carpeted and we have started to set it up with with toys, a craft area, train and lego tables, kid-sized furniture, and of course, space to expand our children's book collection.
These exciting changes are thanks to those of you who told us how important your library is, by donating generously to our capital campaign. Those donations were the seed money that allowed us to apply for grant funds from the State.
Watch this space for future updates and information about our Grand Opening.