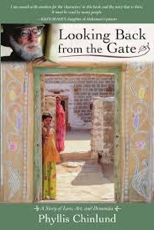 Looking Back from the Gate

Saturday, October 22     1:00 pm
The subtitle of Phyllis Chinlund's memoir, "Looking back from the Gate," accurately describes what she has composed. This is, indeed, "A Story of Love, Art, and Dementia."
Ms. Chinlund worked as a documentary filmmaker, and that experience is evident in the montages, cuts and different points of view she uses to tell her story. Chinlund's second career, as a geriatric social worker, provided her with an understanding of the center of the story, her husband Ray Witlin's Alzheimer's disease. The disease surfaced in 1995, and in January 1998 Chinlund began a journal to detail the life she lived with her failing husband. Almost five years later, in December 2002, her husband passed away.
Phyllis Chinlund is the cousin of our Board President, Colleen Van Hoven.
Read a review in the Adirondack Review here.
Hear Phyllis's interview aired on North Country Public Radio on October 19 here.
Upcoming Program: Andrea Barrett, Friday, October 28. Next in our Authors Book Club series.  Details to come
Library Renovations Begin!
Kevin Delaughter and Nicholas Rumsey on our restored balcony
Our lively old library will be the focus of a series of much-needed improvements in the months ahead.
"Thanks to generous donors who contributed the required one-fourth of the funds up front," said Library Board President Colleen Van Hoven, "and the tireless efforts of our past and present board members, we were able to secure a grant of $60,179 from the New York State Library Construction Program." The total funds available, more than $81,000, will go to restoring exterior doors and windows, roof repairs, adding insulation, upgrading the Library's electrical system, painting all exterior trim (last done in the 1990s), and creating an enlarged children's room and a reading room upstairs.
The renovations got a jump-start this past summer, when Nicholas Rumsey, a new resident of Essex, noticed that one of the Library's most prominent features, the balcony, needed more than a fresh coat of paint: it was badly in need of repair. Though the underlying structure is sound, he saw cracked and rotted balusters hanging free of warped and sagging bottom rails.
An earlier inspection had called for replacing all of the balusters, but Rumsey's experience in furniture conservation and historic preservation suggested another plan. Considering the Library's age, he said, those balusters would have been made from old-growth lumber, which is both strong and irreplaceable. Rumsey proposed conserving and restoring the balusters and anything else that could be saved, and volunteered to do the work himself.
With the Library Board's approval, Rumsey spent close to 150 volunteer hours infilling cracks with a special wood epoxy, then sanding, priming, and pre-painting all 44 balusters on the lower balcony. "Just like people," Rumsey noted, "the balusters aged at different rates. Some were in good shape; most needed work." A few were so badly decayed that he had to lathe-turn new ones; others needed new bottom sections, so Rumsey used old-growth wood he had on hand. He also rebuilt the split and sagging rails and rotted end posts with weather-resistant cedar, carefully matching the original details.
Library Board member Dianne Lansing donated a massive old newel post that her late husband, David Lansing, had salvaged from parts unknown. Rumsey sliced it into sections and turned those pieces into three ball finials, which were missing from the balcony's end posts. Finally, Essex resident Kevin Delaughter generously volunteered his time to help with re-installation.
Although this project is just one small step in the planned upgrades to the Library, the restored balcony presents a new face forward. Watch this space for reports on the progress of our renovations.
New Books
A Great Reckoning by Louise Penny
Archangel by Andrea Barrett
Martin Marten by Brian Doyle
Everybody's Fool
by Richard Russo
| | | | |
| --- | --- | --- | --- |
| | | | |
| Alexander Hamilton by Ron Chernow | McCartney: the Life by Philip Norman | Superpower by Ian Bremmer | The Underground Railroad by Colson Whitehead |